You can post comments on any given initiative:
From the initiative detail page
From "List view"
1. Post comments from initiative detail page
Comment on an initiative by unfolding the "Initiative options" dropdown in the upper right corner of your initiative (see picture below for reference):

2. Post comments from "List view"
Hover any any name of an initiative from "List view" and unfold the "options" button on the right side of the screen. Proceed to submit your comment by choosing the option "Comment" (see picture below for reference):

Content of a comment?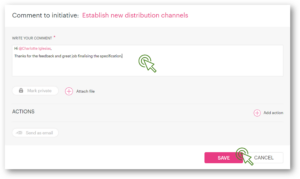 | | |
| --- | --- |
| WRITE YOUR COMMENT * | This is where you enter your comment. This is the only piece of mandatory information. |
| MARK PRIVATE | Click this if you wish to mark this comment private. If you wish to share the comment with selected users, turn on "Mark private" and share with users with "Send as email" function. |
| ATTACH FILE | Attach files clicking the + icon. You can always find all files attached on the initiative in the "Attached files" section on the initiative detail page. |
| ADD ACTION | The actions added to a comment, will automatically align to the initiative you are commenting. |
| SEND AS EMAIL | Send your comment as a direct email to one or more users by clicking the "SEND AS EMAIL" button. |
Locating your initiative comments?
Find comments submitted on the initiative, in the "Initiative history" section located in the bottom of initiative detail page: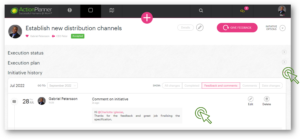 TIP! It is good practice only to push comments that urgently need attention from users. You do not want your team to get their mailboxes cluttered with mails containing comments that are more or less irrelevant to them. Studies have shown that cluttered mailboxes are a source leading to increased stress levels among employees.