To copy an initiative, follow these steps:
Go to the initiative you wish to copy;
Access the "Initiative options" in the upper right hand corner of the screen;
Click the section "Other options" and select the option "Copy initiative".
This means you can create an initiative recycling the description, milestones, actions and KPI's from the initiative you are copying.
You choose which of the elements you want to copy: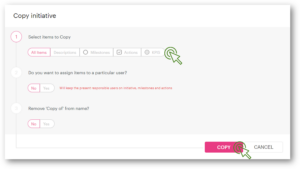 This feature is especially useful for initiatives that are re-occurring or similar in nature.