Give feedback to milestones
Milestones help you get an overview of how the work put into achieving an initiative is progressing. Therefore, giving feedback to the milestones to follow progress is significant to both current and future planning.
To give feedback on a milestone, hover the name of the milestone and unfold the "options" button on the right side of the milestone:

Note that if you are not responsible for the milestone (or the initiative which it resides in) you will not be able to give feedback to the milestone.
A pop-up box will open, and you can now update on how the milestone is progressing.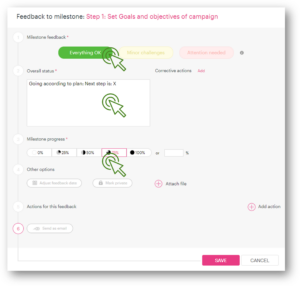 This is done by first selecting a color – there are three color options:
Everything is OK – which opens a comment window to explain what has
been done, and why you believe the milestone is on target.
Minor Challenges (when available) – Also opens a comment window and requires
corrective behavior in the form of a description or actions. The corrective
behavior describes how you are addressing the challenges.
Attention needed – Requires reason for the feedback, comments and corrective behavior. In this case the initiative owner will be notified instantly (since you requested attention) and an outstanding is created to remind the owner about the attention you have requested.
Depending on the feedback, the time-box for the initiative will be updated in the corresponding color circle (milestones), allowing you to see in seconds if the initiative is evolving, as you have required.
Tip: When you create more milestones in ActionPlanner it can be a good idea to think in lines of "Reversed planning" and start with the end in mind (get a very specific picture of what you have succeeded with by executing this initiative). Now, either start planning backwards by creating milestones all the way to the starting point or by asking yourself, what you need to get started with the execution.