How do I "park" an initiative?
There are, in principle, two ways of "parking" an initiative in ActionPlanner:
Using the "Park initiative" functionality (initiative gets removed from overview reports)
Pushing the initiative start date ahead in time (initiative stays visible in overview reports)
    1.   Park the initiative
To save an initiative as a draft (park initiative), start by going to the detail page of the initiative.
Proceed to unfold the INITIATIVE OPTIONS in the upper right hand corner, next to the GIVE FEEDBACK button;
Click the option section "Other options" and select the option "Park initiative";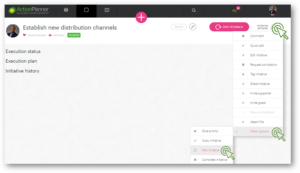 2.   Push it ahead in time
When pushing the initiative ahead in time, the initiative will keep its visibility, thus any users involved with the initiative will be able to see it in the overview reports.
If you push your initiative ahead in time, we recommend a time interval of 3-6 months.
What to choose?
Whether you choose one or the other depends on the visibility that you require. This means that if you need the initiative to be visible to others than yourself, you need to push it ahead in time. If it is okay that it is only visible for you, park the initiative.