Using "Timeline overview"
TIMELINE view provides a Gantt chart view where your initiatives are displayed over a period of your choosing. Per default, timeline will show you the full timeline from the start date of your earliest initiative, to the due date of the latest initiative.
Access the TIMELINE view in both "My overview" and "Roadmap overview" by unfolding the "VIEW" button featured on the left side of both screens;

Each initiative bar color indicates the latest status of the initiative. Hover your mouse on any initiative bar to see the latest initiative feedback;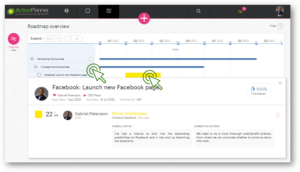 Milestones are marked as circles in each of the the initiative bars, likewise color coded to indicate the feedback or lack thereof on each of the milestones. Hover any milestone to see the latest milestone feedback;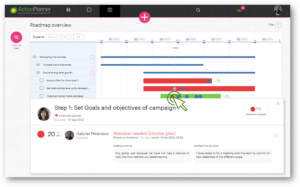 Unfold the roadmap structure to customize your view by clicking the arrow on the right side of the objective or initiative, customise your timeline view using the filter in the upper right hand corner.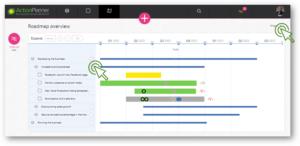 Check out more about the other views here: