TABLE view provides an overview of all initiatives hierarchically in a table.
Access TABLE view in your third menu: "Roadmap overview". Follow this by unfolding the "VIEW" button featured on the left side the screen;

Unfold the roadmap structure to create your view by clicking the arrow on the right side of the objective or initiative and customise what data the table will display using the filter in the upper right hand corner.

TABLE view provides an easy overview with the following data points:
Name of the objective/initiative
Latest initiative feedback
Start date
Due date
Metrics
Unfold the latest initiative feedback by clicking the arrow on the right side of the "Latest initiative feedback" section;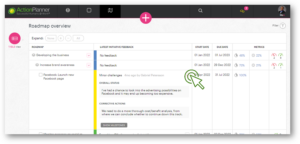 Check out more about the other views here: